How to get to my office
Coordinates: 46 deg 04'49.29" North, 13 deg 12'43.35 East.

You can rotate the globe by click & drag! You can also zoom in and out by holding "shift" down while dragging up and down.
Once you have found Udine, my office is number 20 is in the "Stecca EST", second floor, Rizzi building of Udine University, via delle Scienze 208.
There are a few road signs saying "UniversitÓ, facoltÓ scientifiche" at some crossroads to the north-west of Udine, but no sign at all telling you that you have arrived, not even on the door. If you ask people for directions, as a first approximation ask for "Stadio Friuli", which more people are likely to know. If you are coming by "autostrada", follow first the directions for "Stadio Friuli".
Had you better bring an umbrella along? Take a look here!
To help you get to the Rizzi building:
The bus that comes in front of the Rizzi building is number 10. You can catch it from the bus stop in the train station plaza, on the opposite side from the station. The ride takes about 20 minutes. Departures from train station: 7.03, 7.30, 7.55, 8.25, 8.46, 9.16, 9.39, 10.09, 10.36, 11.02, 11.31, 11.55, 12.32, 12.48, 13.17, 13.36, 14.06, 14.27, 15.01, 15.21, 15.56, 16.17, 16.50, 17.11, 17.40, 18.03, 18.33, 19.05, 19.30, 19.54. During lecture season between 7.50 and 9.00 a.m. there are also five direct bus rides from the station to Rizzi, called speciale universitÓ.
However, once you see the building you cannot be mistaken: it is wide, pink, with blue window frames and concrete-grey pillars. You can tell that you are in front of one of the entrances when you meet one of the two black and yellow striped speed bumps.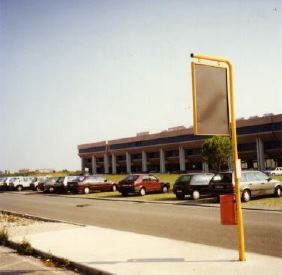 The directions inside the Rizzi building are very poor too. To get near you can try to follow the paper signs taped to the walls saying "aula multimediale". From there you go on the Italian way: trial and error, and asking the locals. The following map locates my office within the Rizzi building: